Catherine Sumague, MBA, Inside Account Executive

Contact: csumague@artitalia.com
Catherine, a recent MBA graduate, joined Artitalia Group in January 2016. Catherine brings extensive work experience in B2B business development,
and is passionate and perseverant towards making new contacts and establishing long term sustainable relationships with clients. In her new role,
her mandate is to grow the postal and material handling segments of the business.
Catherine has an unrelenting focus on results and is never one to stay complacent. She is constantly learning and further educating herself in order to bring practical advice and solutions to complex situations. Her key to staying balanced is leading an active healthy lifestyle, which includes running, yoga, and spending time with her young family.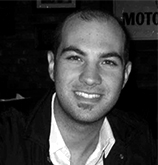 Luca Brando, MBA,
International Account Executive
Contact: lbrando@artitalia.com
Luca, a recent addition to the Artitalia Group organization, brings with him a wealth of knowledge having been previously employed by international companies operating worldwide. In his new role, and with his experience ranging from international foreign business development to establishing new relations within international markets, Luca's primary goal is to help grow the material handling market outside of North America.
With his extensive education in International Business, International Trade, and Business Administration, Luca is able to service clients from around the globe, offering them the highest level of expert knowledge to make informed choices for their project needs. Luca's key to his success is travelling with his wife and young daughter and constantly learning and developing an understanding of cultural diversity.