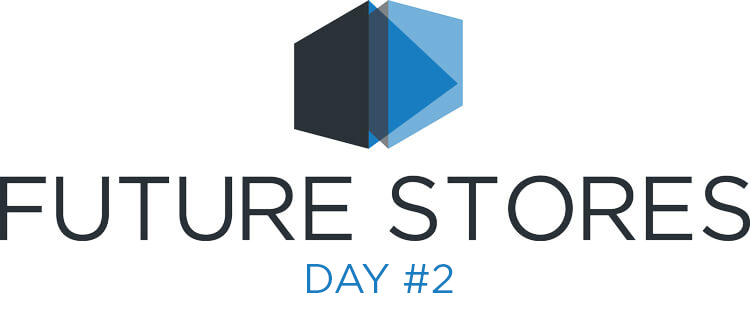 DAY 2 of Future Stores conferences
is in full swing and it has been, so far, an extremely exciting time. The keynote speakers, from Marc-Alexandre Rishe of L'Oreal to Rosie O'Neill from Sugarfina, were all brilliant. They both brought up accurate and interesting trends and facts about the retail industry that are tied in directly with the customer experience, or as I am now seeing it after listening to them both, a "people experience".
Bridging the gap between retail's brick-and-mortar and digital technology is not about cutting out the personal touch of human relationships, it's actually about learning how to use that technology as a means of transportation to exemplify personalized customer experience.
As we get caught up with all of our modern day technology it's easy to forget about identifying with our customers as human beings, with emotional tethers and engagements, to view them as no more than numbers because, after all, with BOPIS tech as an example, we do not connect with the customer at all. They are able to do everything themselves with the simple click of a button, they don't even have to make the effort of coming to a store location.
Rosie O'Neill's presentation was an extremely good example of how going that little extra step, including all of today's new technology, is extremely rewarding for customer loyalty.
She has not only managed to make shopping for candy an extremely high-end and classy thing to do, but the personal touches added to her deliveries, though as simple as a handwritten note, identifies her brand with more than high-quality sweets she offers, but also brings it in touch with going the extra mile to connect with her clients, and making them feel special.
Imagine, all she is doing delivery a quick, one or possibly two sentence note of well-wishes to her client, by name, causing her to create some seriously loyal consumers who have no problem going back and spending money on her candy time and time again.
These kinds of personal touches are also proof of what Marc from L'Oreal said, and this is paraphrasing his thought with more of my own thoughts mixed in but, it's time we step away from loaded terms like omnichannel solutions and focus on client-centric terminology and treatment.
Keeping that in mind, what does omnichannel retail really mean? In truth, not very much. As everyone has their own idea of what it means, why not simply take the concept and demonstrate it through action?
Show clients and customers that you can communicate with them through all media channels by doing it, identify their own personal wants and needs by researching and listening to the changes and trends in the retail market. Focusing on the client experience, for example, giving them a memorable and tasteful experience with your brand will guarantee their loyalty and continued business spending on what you're selling.
Demonstrating this notion through action will also go to further train new employees and reaffirming the concept of client-centric business with your business, further solidifying your brand.
I seriously hope you've found your way to these conferences and are engaging with them as much as I am. All this information is invaluable to your retail ends.
Contact Us
Enter your information below to speak to one of our representatives.