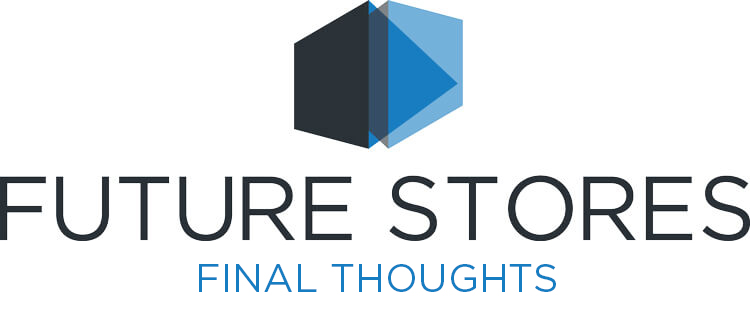 Future Stores 2018, Final Thoughts
My final thoughts after coming back to Montreal from the Future Stores 2018 conference in Seattle. There isn't simply a direct influence over retail and consumer behavior that technology is having, the secondary effects are astounding as well. In general, customers are much more informed and knowledgeable about the products and merchandise that they want.
The most important thing, from a retail perspective, is that all this technology has given customers the ability for instant gratification in one form or another. They can get all the information on products they could possibly ever need, and they have access to almost instantaneous purchasing power from anywhere in the world, whether it is in-store or from a beach in Bali, customers always have access to shopping abilities thanks to technology.
These advancements in technology are forcing the entire retail industry to make the appropriate changes in order to cope and offer the most client-centric services to match the digital demand while still maintaining their tactile ability to see clients face-to-face. Offering clients the best experience possible is the best way to keep up with the digital transformations that are already affecting, and coming, to the retail industry.
Just to keep everyone in the loop, here is what client-centric means:
"Client centric is an approach to doing business that focuses on creating a positive experience for the customer. Client-centric businesses ensure that the customer is at the center of a business's philosophy, operations or ideas. Client-centric businesses believe that their clients are the only reason that they exist and use every means at their disposal to keep the client happy and satisfied."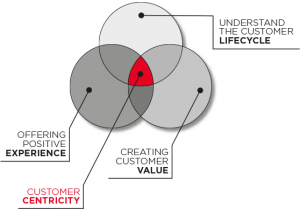 Source: https://beyondphilosophy.com/7-reasons-focus-customer-value/
As I previously stated, online retail technology has made everything readily available to customers, from information to actually being able to acquire products and services with the touch of a button. From a store perspective, ease of interaction is something that you need to replicate on a face-to-face level with the same clean delivery method that businesses like Apple have been using since May 19th, 2001, when their first store opened up in Virginia. It has evolved since then, but that clean, minimalistic approach, often having more employees in store than customers at any one time, has served them well. People enjoy being catered to now more than ever, and this approach allows for that same sentiment to be given in person.
Amazon GO is a great example of taking technology and using it to maximize client-centric services, in a very innovative way. They have managed to maximize on customer's experience by completely removing the long cashier lines and human interaction altogether. They have made the customer's experience easy, quick, and convenient: everything the modern consumer is looking for in their day-to-day interactions. Amazon's technology has not only removed the need for the client-facing side of things but it allows them to keep track of everything and at the same time ensuring the best possible service for all its consumers. You can simply walk in, pick up the items you need and walk out. The only thing you need is an Amazon GO account for your purchases, and so that Amazon can keep track of what's sold.
Check out their store concept here: https://www.youtube.com/watch?v=zdbumR6Bhd8
Requiring customers to have an Amazon account to walk in the store is ingenious marketing. If the potential client does not want anything today, or even tomorrow, having downloaded the app will ensure they always have a reminder of Amazon, and if not today, eventually they will probably try to purchase something either from the store or through Amazon.com to have it delivered to their home. They have merged the digital retail space with the physical one. The analytics behind everything collected also allows them to keep in touch with people, send out information, and keep track of consumer habits.
Remember, "no one likes being sold to, they like buying," is a concept that has been repeated time and time again, but now you have technological help to make this kind of interaction easier than ever, while still maximizing sales. In today's market, in order to stay on top of the retail evolution, merging technology with your business is the only way to stay relevant. Being solution providers, at Artitalia we believe that this is the mentality any and all retailers need to adopt in order to actually make sales, and we're ready to help transform any business in order for them to achieve their goals.
Overall, the main message taken away from this conference is something we've all heard before but is just as relevant: focus on the customer, be sure to offer something unique and memorable to the customer, and with today's market, you must do this across all spaces: digital, physical, and when possible, merge the two together. You need to make yourself stand-out and go that extra mile.